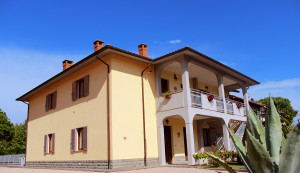 Farmhouse La Piana is a holiday house that consists of 9 independent apartments, near Castiglione del Lago 2 km from Lake Trasimeno,on the border between Umbria and Tuscany.
Upon arrival, one is immediately enchanted by the beautiful garden, rich with colorful flowers and plants that help make our farmhouse an oasis of peace and relax.
Children's playground, bowling alley, gazebo, barbecue and swimming pool are available for the guests' enjoyment of country house La Piana.
In front of the farmhouse there is a convenience store and a bar where you can take a coffee or a cappuccino.
This is the ideal place to spend a vacation dedicated to relaxing and enjoying the splendid nature which surrounds us, at the same time the main attraction of Umbria and Tuscany, such as Assisi, Perugia, Siena, Gubbio, Arezzo, Cortona, Città Della Pieve, Bagno Vignoni, as well as the little villages which surround Lake Trasimeno, can be easily reached from Piana's strategic location.
There are many restaurants in the area (several offer special deals for our guests) where one can try various specialties of Umbrian and Tuscan cuisines, accompanied by excellent wines from surrounding vineyards, at a good price.
It is also possible to use the bicycles made available by the country house. You can go for a relaxing walk in the woods and fields, or cycle along the trail that skirts the Lake Trasimeno to admire the magnificent view at sunset!
Enogastonomia, escursioni, equitazione e tanto altro…
Enogastonomia, escursioni, equitazione e tanto altro… tra Umbria e Toscana!
Saremo lieti di consigliarvi ed accompagnarvi nelle attività più adatte alle vostre esigenze!